Meet The Staff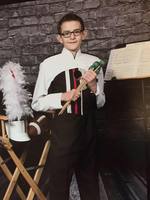 Micah Champagne
Inspiration
Born October 17, 2001 in Bedford, Texas. Micah is the inspiration of C.J. Wilson's Children's Charities. Micah shares his birthday with his dad, Robert.

Micah who has severe hemophilia, Asperger's, cyclic neutropenia and human growth hormone disorder is still like every other little boy. He enjoys bowling, fishing, Legos and the Rubik's cube! Micah can complete a 3x3 Rubik's Cube in 53 seconds! Micah has been on the A & B honor roll in school since first grade.

Micah wrote the following poem and best describes him:

I am a boy, who cannot clot,
And that is why I get shots.
Because of my port,
I can't play sports.
But I still have fun and like to run
And play in the sun.
I also need help to grow,
And sometimes I like to be slow
But that doesn't stop me from wanting to play in the snow.
As long as I do what the doctors say,
I will always be able to play!

Micah currently is in the 5th Grade. He lives in Florida with his mom.